Ethical coffee
Making sure that our coffee is prepared in an ethical way, in the respect of fair-trade practices, is a priority for Geo Wiener S.A.
Café Selecto is trying to establish a balance on the national market, so that the hard work of every farmer can be rewarded at its fair price.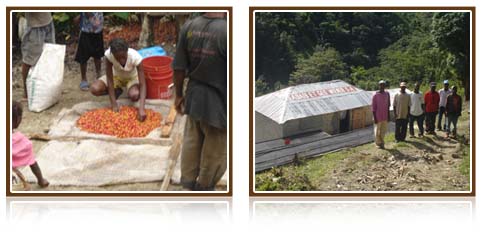 Geo Wiener S.A. is willing to provide the best coffee to its consumers through both the traditional coffee from the farmers' reserve as well as the fully washed coffee ("Grands Crus") coming from the rigorous selection of the finest cherries.
One objective of the company is to allow the Haitian market to support all the production work of an authentic coffee, and to help develop the autonomy of the local market by creating jobs, in order to offer a coffee that benefits Haitians, because it is produced by Haitians.
With Geo Wiener S.A., more than a simple coffee, it is a way of life, the real unique taste of Haiti that is revealed in each cup…