Our Partnerships – "Grands Crus"
With many social activities organized, mainly in Dame Marie, including for example financial donations to hospitals, formation and technical help provided for the farmers specialized in the coffee and cocoa cultivations, with the partnership of the European Union and the USAID, Geo Wiener S.A. is trying to support producers so that it could help them increase the quality of their production.
For this company, and especially for Norman Wiener, a resurgence of the agro-industry sector implies a return to the source, meaning the consideration of the farmers. 
It is in that perspective that Geo Wiener S.A. launched an innovative partnership with ADAIB (Association for the Development Agro-Industrial of Beaumont) in 2007, for the preparation and the commercialization of a high quality coffee, fully washed, the "Grand Cru de Beaumont".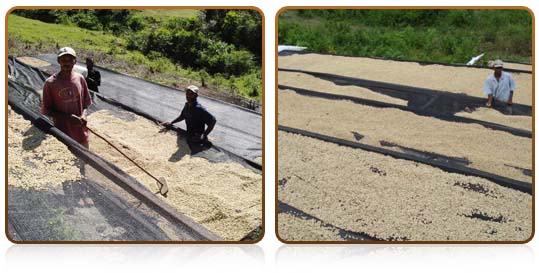 Geo Wiener S.A. has radically changed its relationships with groups of autonomous farmers, organized in associations or coops. The company has become an essential partner, involved in all the steps of the coffee's value chain.
Concerned with working with the farmers on an equal level, and providing them an efficient post harvest processing service, Geo Wiener S.A. has since then initiated other partnerships. Thus were created two other "grand crus", the "Grand Cru de Baptiste" and the "Grand Cru de Thiotte".